SPECIAL OCCASION INTERIOR DECORATING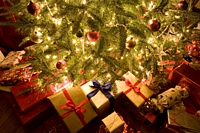 We all look forward to special occasions and the wonderful memories that are created by spending joyful times celebrating with family and friends. Christmas, New Year's Eve, Valentine's Day, Easter, Mother's & Father's Day, Thanksgiving, Halloween, Birthdays, Wedding & Baby Showers, Weddings, Anniversaries and Housewarming Parties are some of the main occasions that we celebrate from year to year. What better way to create heartwarming memories and traditions than by decorating your home for these fun occasions! Decorating your home for those events that are special to you and others is a spirited, creative expression of your hospitality. Gatherings in your home will long be remembered for their originality, their festive ambience, and the warm company of family and friends. Creating an experience that both you and your guests will treasure will enhance your enjoyment of the special occasion or holiday season and create lasting impressions for all.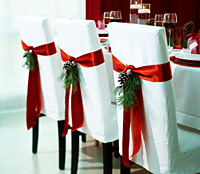 Whether it's your annual holiday party, your Thanksgiving gathering for 20, your best friend's baby shower or your brother's 50'th birthday celebration, we'll help you do it up in style!
The Christmas season is a fabulous time of the year to go all out and really make your home look festive. Christmas is our favourite time of the year at Lasting Impressions, so that is our decorating specialty! If you like to entertain, or would like to do more in-home entertaining, rather than incurring the expenses of going out, then the holidays are the perfect time to really pull out all the stops and make your home a destination gathering spot.

Halloween is another great time to decorate in style as some parents are shying away from having their children go trick-or-treating, and opting to have a "haunted house" that the neighbourhood children will remember for years to come! And if the truth be told, many of us adults love to dress-up and celebrate this special occasion with ghoulish delight! Throw a fabulous party for the kids in the neighbourhood and/or for all your kids-at-heart adult friends. Decorating in "spooktacular" fashion will leave lasting impressions on all who dare to enter your home. We'll do the work for you, so all you need to do is enjoy what we brew up for you!