INTERIOR DECOR ENHANCEMENT & REDESIGN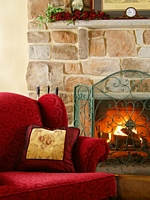 Your home is your castle and your haven, and should be a place where you can create special memories and truly relax in. Whenever a home is especially memorable, it is usually because its decorating style reflects the people who live there – their tastes, passions, favourite colours and personalities shine through, and provide a lasting impression for all who visit.
"When friends enter a home, they sense its personality and character, the family's style of living – these elements make a house come alive with a sense of identity, a sense of energy, enthusiasm and warmth." ~Ralph Lauren
An interior decor enhancement and/or redesign consultant will assist you in creating the home you've always wanted. Whether it's determining or updating your preferred decorating style, offering colour, fabric, pattern and/or space planning consultations, or choosing new - or re-purposing existing - furnishings and accent pieces, we have the expertise to pinpoint what should be done and/or purchased to enhance your overall decor. We take into consideration your lifestyle, the personalities of those who live in your home and the functionality required of each of your rooms.
It's easy to get stuck in a decorating rut. You may have had the same decor for years, and now it appears a bit dated. Thankfully, even small changes can make a big impact. It is not necessary to start from scratch. You can introduce new items to a room and give it an updated, contemporary look. Nowadays, it is fresh and appealing to blend more than one decorating style in compatible ways, so an updated look can still be created through a mixture of contemporary, vintage, eclectic or traditional furnishings, accents and accessories. The goals are that your home should feel welcoming and comfortable, and that it exudes a sense of charm, coziness, harmony and cheerful hospitality. These characteristics are what really turn a house into a home.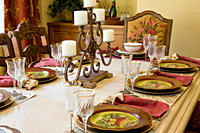 It has been said that the difference between good home decorating and great home decorating is in the details. Often, it's the small touches that have the greatest effect on a decorating scheme. Accessories, art, collections and treasures of all kinds are what give a room its distinctive character. Accessories and accent items are the most personal parts of decorating, and should be chosen with care, be reflective of your personality, and be displayed to their best advantage. Often, existing furnishings, accents and accessories can be re-purposed to create rooms with unique character and style.
"Many people approach decorating very seriously. But often the homes that best express their owner's true sense of style are decorated with a lighthearted touch. They possess that spark of high spirits that tells you good times are part of this home's personal history. 'I like houses to be cozy, comfortable, and personal', Candice Bergen confesses. 'Not cluttered, but filled with interesting objects and toys and as many jokes as I can get away with'. Our sense of humor doesn't have to be communicated through sight gags so much as expressed through the subtle charm of the unexpected through whimsy and whit. Let the spirit of spontaneity fill your home with fun." ~Simple Abundance, Sarah Ban Breathnach
Your house is your home, but only after you have put your personal stamp on it. Punching up your interior decor can simply be a matter of displaying your collections in artful ways, adding decorative cushions and throws, creating a cozy ambience through appropriate lighting, and refreshing your colour themes and fabric choices. Adding personally reflective accessories to a room can be one of the most enjoyable and rewarding parts of decorating because they add new life to a room, as well as warmth, texture, drama, charm and pizzazz. Without exception, the most interesting interiors are those that tell a visual story of those who live there – their likes, their hobbies, their history - and their eccentricities!
"Your possessions express your personality. Few things, including clothes, are more personal than your cherished ornaments. The pioneer women, who crossed a wild continent clutching their treasures to them, knew that a clock, a picture, a pair of candlesticks, meant home, even in the wilderness." ~Good Housekeeping Magazine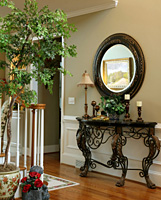 Interior Redesign – also known as Home Restyling, Interior Decor Refining, Interior Rearranging or House Fluffing - is similar to traditional interior decorating in that the goal is to create a harmonious decor that is reflective of the style and personalities of your home's occupants. The main difference is that most, if not all, of your current furnishings and accessories are used to accomplish the decor scheme, rather than adding new items. These existing items just need to be rearranged or re-purposed in fresh, creative ways. This is often an appealing alternative to traditional interior decorating because it is more affordable than a complete decorating makeover. Redesign services are especially beneficial if you are bored with your current home decor arrangement, or if you don't find your rooms comfortable, inviting or functional. It is also extremely helpful if you are trying to merge two households of furniture and blend the two styles effectively, or if you are downsizing and need to arrange your furnishings in new, creative ways.