HOME STAGING
Home Staging – also known as Real Estate Enhancement - is one of the primary selling tools to engage when you decide to put your house on the market. It is the process by which you prepare your home for sale right at the outset so that it will appeal to the broadest number of potential buyers (not to mention real estate agents, who will be recommending certain properties over others to their clients and associates). When you put your home's best foot forward, it is quite likely that it will sell more quickly and for more money – it certainly gives your property the edge in any real estate market. Generally speaking, the sooner that you sell your home, the more likely it is that you will receive a selling amount that is close to your asking price. The longer your home stays on the market, the further below its list price it could drop. The costs associated with staging your home may actually more than pay for themselves because you won't be forced to reduce your asking price, or accept an offer that is far less than you were hoping for. A typical price reduction can be thousands of dollars – generally anywhere from at least $5,000-$10,000. According to the National Association of Realtors (U.S.), the average staging investment is between 1 and 3 percent of your home's asking price. This investment typically generates a return of 8 to 10 percent in terms of your final sale price.
Staging your home will put you in a much better position to sell your home for top dollar in the least amount of time. We'll help you to see your home from a buyer's point of view and offer recommendations on how it should be staged to highlight its best features, while downplaying any of its weaknesses. When we have completed preparing your home for sale, buyers won't have to imagine your home at its best because we'll already have done that for them – it will be easy for them to envision how wonderful it would be to live there! When you invest the time to stage, you have the ability to grab the attention of any potential buyers the moment they set foot on your property. The more they see of your home, the more they will be impressed and want to make an offer!
So when do you stage? Since it is very important to make a great first impression, you should stage your home before you contact a realtor to get an appraisal – and definitely before you post any photos of your home on an online Multiple Listing Service (MLS). When a realtor tours your home for the first time, he or she will provide an estimate of your home's selling value based on how they perceive the market will respond to your home. If they are impressed with what they see, the estimate will most likely be higher, rather than lower. Statistics show that between 70 and 75 percent of home buyers initially view potential properties for sale via photos posted on the internet. This practice allows them to narrow their choices and assists them in eliminating some properties from their consideration altogether. A potential sale can be made or broken based on how your home is portrayed in these photos. Photos that are taken of your property should showcase your home in the best possible light, and be so appealing that buyers are impressed and eager to see it as soon as possible. If you've grabbed a buyer's attention at the outset, by the time they view your staged to sell home in person, you will have a far greater chance of making a sale.
It is important to remember that home staging is not interior decorating. Interior decorating emphasizes the lifestyles, interests and personalities of the people who live in your home. Home staging shifts the focus from what your decorating preferences may be to those that will appeal to buyers of all tastes and preferences. When a home is not staged, many buyers have a difficult time envisioning the possibilities a home may hold for them. A house that retains the stamp of its present owners by having too much clutter or too many personal items often makes buyers feel that they are intruding on "your" space. Similarly, any distracting paint colours or room elements limits how a buyer can imagine their own furnishings in your home. For the most part, people want a move-in-ready house that is bright, clean, free of clutter and painted in neutral colours. Your home should appear as spacious as possible, so de-cluttering, space planning and flow are all very important. Each room should function well for its intended purpose, whether it is a family room, a bedroom or a home office. Showcasing any focal points of a room – such as a beautiful fireplace or a lovely view – is also very important. Potential buyers need to mentally move into your home in order for it to sell – the goal is to make your home irresistible to them by allowing them to imagine "their" family living in the house, not yours.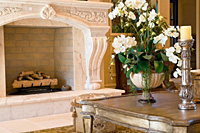 Although it may be somewhat challenging at first, it is essential that you detach yourself from your home once you decide to put it on the market. When you come to terms with the fact that how you live in your home and how you sell your house are two very different things, it will be much easier – and even fun! - to approach the process of staging. Even though you may need to neutralize your decor, your home can (and should) still be inviting - a few well-appointed, colourful accents and accessories will add some extra pizzazz to your home. A spacious, clean, tidy, harmonious, tastefully decorated look is what you are after. At a minimum, staging pinpoints any potential problems with your home's cosmetic appearance or functionality early in the game. This alone will help you to address any flaws that a buyer may point out in an effort to justify a lower bid on your property.
In terms of your home's interior, you can stage a little or a lot. The extent to which you stage depends on your goals, your budget, and which staging strategies will yield you the best return on your staging investment. We'll help you determine which strategies will most effectively aid in selling your home for the highest dollar value possible, and in the shortest period of time. We'll show you what areas of your home are the real "money makers" when you organize and stage them well, and offer tips and suggestions on "the little things" that will boost your chances for appealing to a broad market base. We'll find inventive uses for items you currently own that would aid in staging your home and, if needed, advise on any items that you may wish to purchase or rent. There are some great ways to stage each and every room in your home and we'll provide you with recommendations that you can either do yourself or that we can do for you.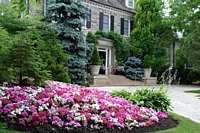 In addition to staging the interior of your home, devoting special attention to its exterior is an essential element of the staging process. Just as potential buyers will likely view your property on the internet initially, many will do a drive-by if they are interested in touring it – this is especially true if an open house is not scheduled until a few days down the road, but the potential buyer would like to get an idea of the property ahead of time. That is why "curb appeal" is so important. It creates an impression and fuels expectations of what the rest of your property may be like. If your home and grounds look inviting, clean and well taken care of, buyers will continue to consider your property as an option for them to buy. If they are unimpressed with the appearance of the exterior of your home, they may never take the opportunity to view the beautifully staged rooms inside. Don't pass up a golden opportunity to really impress a potential buyer even before they walk through your front door.
Give yourself the real estate marketing edge and stage your home to sell!